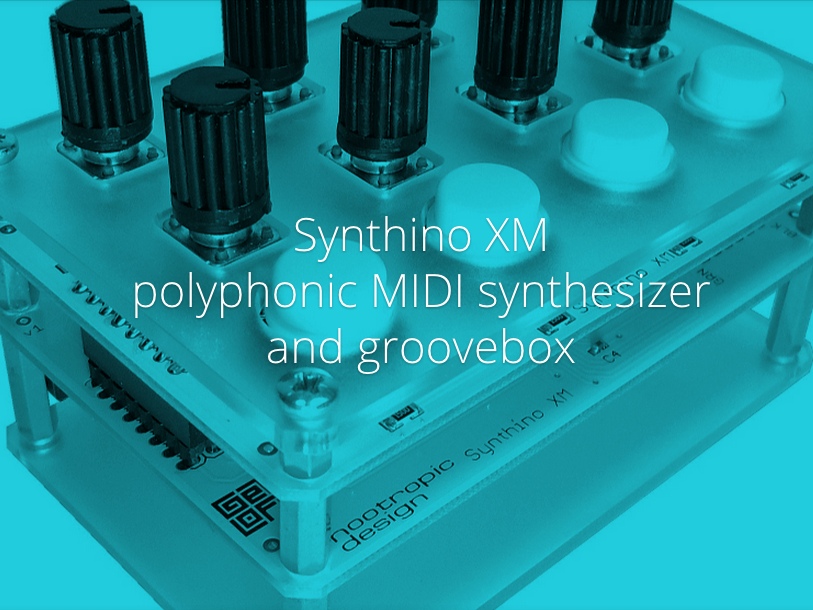 After a successfully funded Kickstarter campaign, the Synthino XM is finally available to the whole world.
The Synthino XM is by far the most sophisticated device we've design here at nootropic design. We had a lot of help from our partner in this project, GetLoFi.
Visit our sister site synthino.com to order this awesome synth for $139. If you like making music or just noise, you won't find a synth with this many features for this price.
5-note polyphony for superb playability
12 waveforms, 5 drum samples (kick, snare, hi-hat, tom, clap), and noise generator
12-bit audio at 25KHz output rate
4 MIDI channels, each with separate waveform and ADSR envelope settings
MIDI over 5-pin MIDI jack or USB
MIDI over USB works with DAW software on Mac, Windows, iOS, Android
low pass filter with cutoff frequency and resonance controls
2 independent low frequency oscillators (LFOs): pitch and filter
selectable waveform for LFOs
1V p-p audio output voltage with enough current to drive headphones
arpeggiator mode, up to 16 notes
4 arpeggiator patterns: up, down, up-down, random
4 built-in arpeggiator chords or use MIDI to specify up to 16 notes
arpeggiator pitch transposition control
tempo control with MIDI clock input
16-step live performance "groovebox" sequencer
save/load patches and sequences in EEPROM
pitch fine-tuning adjustment
programmable/upgradable over USB
Lots more info at synthino.com, including audio tracks, videos and more!