The tiny, hackable, Arduino-based video game system
This page demonstrates the games that are available preloaded on Hackvision and shows some newer games as well. To learn about writing your own games on Hackvision, visit the Game Development page. 
Original Preloaded Games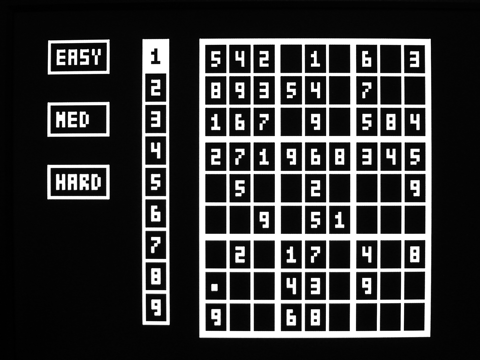 Breakout : Sebastian Goscik in the UK did a great job making Breakout for Hackvision. The code is shorter than I thought it would be, and look at that awesome title screen! If the action is a little too fast for you, change the argument in the line TV.delay_frame(1) to 2 instead of 1.
Download:
1. Breakout source code
2. TVout library (includes TVout, TVoutfonts, pollserial)
3. Hackvision Controllers library
Directory structure:
Arduino
    |
    +--Breakout
    |     |
    |     +--Breakout.pde
    |     +--breakout_bitmaps.h
    |     +--breakout_bitmaps.cpp
    |
    +--libraries
          |
          +--TVout
          +--TVoutfonts
          +--pollserial
          +--Controllers